Say Goodbye to Dark Circles with Piel Cosmetics Retinol Eye Cream
Say Goodbye to Dark Circles with Piel Cosmetics Retinol Eye Cream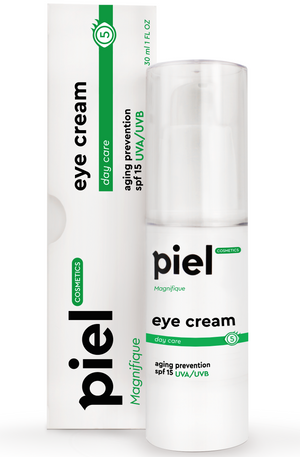 Introduction: Dark circles and signs of aging around the eyes can make us look tired and older than we actually are. Luckily, Piel Cosmetics has come to the rescue with their Retinol Eye Cream. Formulated with powerful ingredients like retinol, collagen, and hyaluronic acid, this eye cream promises to diminish dark circles, reduce signs of aging, and bring back a youthful glow. Let's delve deeper into why Piel Cosmetics Retinol Eye Cream deserves a place in your skincare routine.
Powerful Anti-Aging Benefits: Piel Cosmetics Retinol Eye Cream is packed with potent anti-aging ingredients. Retinol, a derivative of Vitamin A, is renowned for its ability to stimulate collagen production and promote skin renewal. Collagen, known as the building block of youthful skin, helps restore elasticity and firmness. Hyaluronic acid, a hydrating powerhouse, plumps and moisturizes the delicate skin around the eyes, reducing the appearance of fine lines and wrinkles. Together, these ingredients work synergistically to rejuvenate the eye area, providing a more youthful and vibrant appearance.
Dark Circle Banishment: One of the standout features of Piel Cosmetics Retinol Eye Cream is its targeted approach to tackling dark circles. The potent formula targets the underlying causes of dark circles, such as poor circulation and thinning skin. With regular use, you can expect a reduction in the appearance of dark circles, leaving you with a brighter and more refreshed look.
Gentle and Nourishing: The delicate skin around the eyes requires special care, and Piel Cosmetics understands this. Their Retinol Eye Cream is designed to be gentle yet effective, minimizing the risk of irritation. The cream is carefully formulated to provide intense hydration and nourishment, leaving the skin around the eyes supple and smooth.
Conclusion: If you're tired of dealing with dark circles and visible signs of aging around your eyes, Piel Cosmetics Retinol Eye Cream is a must-have addition to your skincare routine. Its powerful combination of retinol, collagen, and hyaluronic acid targets dark circles, reduces the appearance of wrinkles, and promotes a youthful, glowing complexion. Experience the transformative effects of Piel Cosmetics Retinol Eye Cream and say hello to brighter, more vibrant eyes.